About the Book
Title: Two Steps Forward
Series: #3 The Deacon's Family
Author: Suzanne Woods Fisher
Publisher: Revell
Released: February 2020
Genre: Amish Romance
Length: 319 pg
Back and broke in Stoney Ridge, Jimmy Fisher has coasted as long as he could through life on charm, good looks, and deep-set dimples. They always worked just fine for him–until they didn't. His smile has no effect on the violet-eyed beauty he met at the Bent N' Dent, the one with that stunning horse. She's offered him a job, but nothing else.
The last thing Sylvie Schrock King needs around Rising Star Farm is a grown boy working for her, especially her neighbor Edith's son. The woman holds a serious grudge against Sylvie and her son, and hiring Jimmy Fisher will only fan the flames of Edith's rancor. But Sylvie is desperate for help on the farm, and Jimmy understands horses like no one else.
While Jimmy's lazy smile and teasing ways steal Sylvie's heart, Edith is working on a way to claim her land. Has Sylvie made another terrible mistake? Or is it too late to outfox the fox? More importantly . . . just who is the fox?
Writing with both wit and warmth, Fisher delivers a supremely satisfying conclusion to the popular Deacon's Family series.
My Review
In this heartwarming, soul-searching tale, Suzanne Woods Fisher invites us back to Stoney Ridge. In Two Steps Forward, we see Luke Schrock maturing as a deacon; Izzy still looking for her missing childhood, and Jimmy Fisher returning from Colorado. Unsure of his plans, Jimmy accepts an unexpected offer from widow Sylvie Schrock King to help with her horse and farm.
Sylvie is a very likable character. She is independent, a hard worker, and she will defend and protect those she loves. For her, the question seems to be, is Jimmy worth loving?
I really couldn't decide how I felt about Jimmy. Fisher drew him in such a way that I liked him, felt sorry for him, but despised and wanted to be done with him.

The creek, which divides Sylvie's property from Edith Fisher Lapp's, is slowly meandering closer and closer to Edith's house. Perhaps symbolic of the way Edith's sphere of influence gets smaller and smaller the more in control of others she tries to be.
Edith is NOT a nice person, but Bishop David Stolzfus gives her lots of room (grace) to be herself. In our time in Stoney Ridge, I have enjoyed watching his people-handling skills, honed by hours of prayer. David is a very patient and wise bishop and is teaching Luke well by example.
While Luke has grown by leaps and bounds, Izzy is still chained to her unfulfilled childhood longings. Will she ever feel that she can move on without the ability to settle her past?

Themes include righting wrongs towards others (mending fences); forgiveness (can those already given grace pay it forward)?; protecting those who can't defend themselves (adoption or fostering). It's important to take action, realizing by being part of the solution, we can help people, one by one.
Yet, a fourth theme was the importance of a loving father in the home.
I totally enjoyed this story and recommend it. That being said, I wish there had been one less twist at the end.
I received a complimentary copy of this book from Revell and the author through NetGalley. This in no way affects my opinions, for which I am solely responsible.
My Rating
5 Stars- Superior – Hits My Reading Sweet Spot and makes me want to stay in Stoney Ridge.
About the Author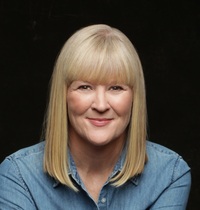 Suzanne Woods Fisher is the bestselling, award-winning author of fiction and non-fiction books about the Old Order Amish for Revell Books, host of the radio-show-turned-blog Amish Wisdom, a columnist for Christian Post and Cooking & Such magazine.
Her interest in the Amish began with her grandfather, who was raised Plain. A theme in her books (her life!) is that you don't have to "go Amish" to incorporate the principles of simple living.
Suzanne lives in California with her family and raises puppies for Guide Dogs for the Blind. To her way of thinking, you just can't take life too seriously when a puppy is tearing through your house with someone's underwear in its mouth.
Suzanne can be found online at: www.suzannewoodsfisher.com