About the Book
Title: Unknown Threat
Series: #1 Defend and Protect
Author: Lynn H Blackburn
Publisher: Revell
Released: March 2021
US Secret Service Special Agent Luke Powell is lucky to be alive. Three of his fellow agents have died in unusual circumstances in the past ten weeks. Luke is devastated by the loss of his friends and colleagues, and his inability to locate the killer feels like a personal failure. He's an expert at shielding others, but now the protectors are in need of protection.

FBI Special Agent Faith Malone is driven to succeed and confident in her ability to solve every case she's assigned. She's been put in charge of the investigation into the unprecedented attacks, and with Luke's life in danger, the stakes have never been higher. But it's hard to know how to fight back when you don't know who the enemy is.

As more agents are targeted, Luke and Faith will have to work together to bring a killer to justice and prevent any more names from joining their fallen brothers and sisters on the Secret Service Wall of Honor.
My Impressions

"Mondays were the worst." Who doesn't agree with that statement?! And with that sentence, Lynn H Blackburn deftly hooks the reader. The timbre of Unknown Threat, ( #1 Defend and Protect) escalates as we find out that Secret Service agents in the Raleigh office are being picked off systematically. Can FBI Special Agent, Faith Malone, work with Luke and get past his hatred of the FBI, to discover who wants to eradicate his team?


Plenty of drama, sweet romance, and explosive action make this a story to remember. I love the way that Luke and Faith must put aside their pasts with their hurts and baggage to forge a relationship. Little snippets make us aware of another team member whose romance may be the subject of the next book. I appreciate that Blackburn adds a humorous dimension to very tense moments and keeps the suspense below heart attack level.
I have read Blackburn's Dive Team Investigations series and was pleased to find the same level of team camaraderie and loyalty between members of Luke's Secret Service agency. That pervading sense of family makes me eager to get my hands on the next book in the series.
I received a copy of the book from the author and publisher through Library Thing. All opinions are my own, unsolicited thoughts.
My Rating
Magnificent!
About the Author
It's probably no surprise to any of you that two of my favorite things are reading books and writing books.
If I'm not reading or writing, there's a decent chance that I'm talking about reading or writing, which is part of what makes doing interviews for my books so much fun. 
I've compiled a running list of all the places where you can see/hear/read about everything from my feelings on dogs and cats to how I do my research. All of these interviews have been tied to the release of Unknown Threat in some way.
If you click on this page and scroll to the bottom, you'll find a plethora of interviews. Some are video, some are written, and some are links to specific podcast interviews. I'll be updating this list weekly, so be sure to check back from time to time!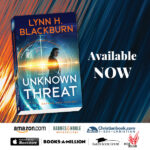 And speaking of Unknown Threat – y'all! The response has been amazing! As of this writing we are only 2 weeks past the release and there are already 105 reviews on Amazon and it has 4.8 stars. My mind is blown, my heart is full, and it makes me ridiculously excited to dive into writing the next book in the series!
Grace and peace,